FELLOWS 2020
Due to the sanitary crisis and the postponment of our projects, Maíra Dietrich, Julia E Dyck, Falk Messerschmidt, Pedro Zylbersztajn, were invited to stay as fellows for the year 2020-2021.
FELLOWS 2019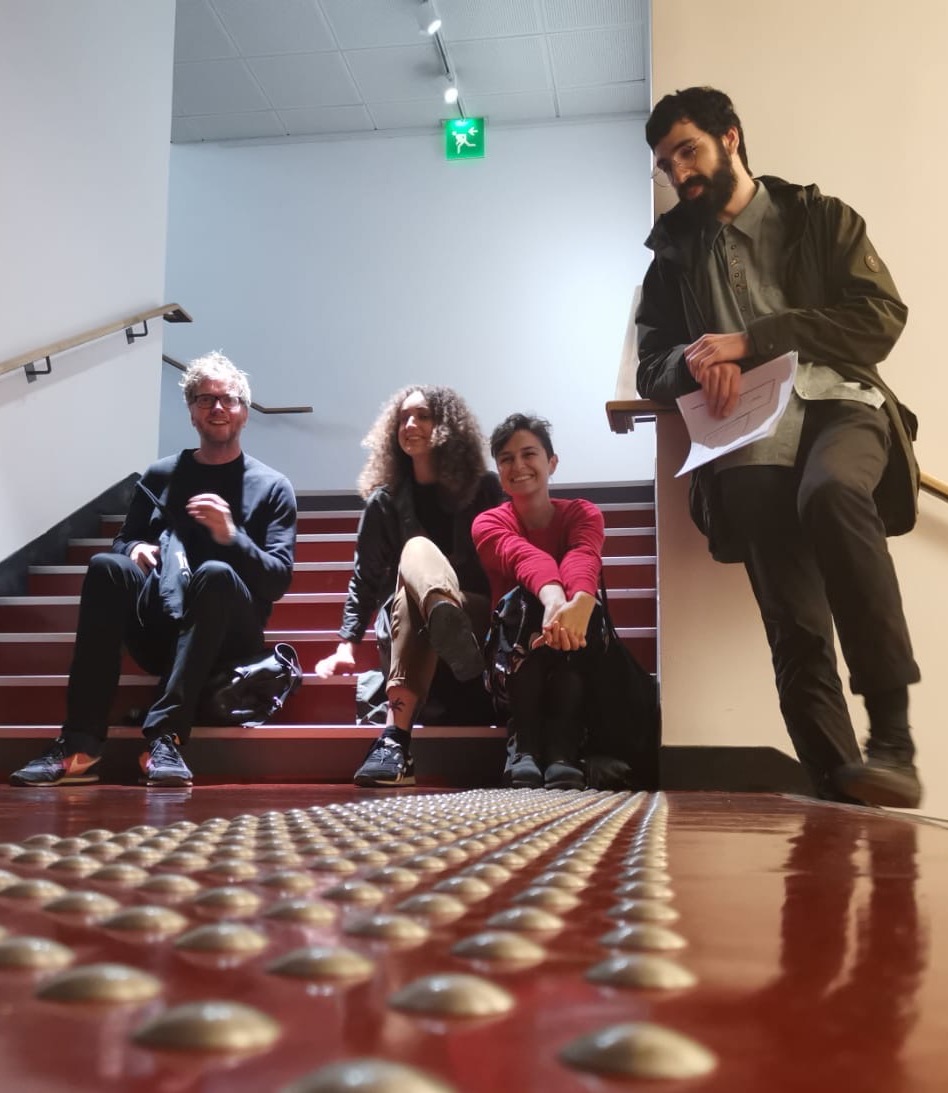 Maíra Dietrich - website
Julia E Dyck - website
Falk Messerschmidt - website
Pedro Zylbersztajn - website
FELLOWS 2018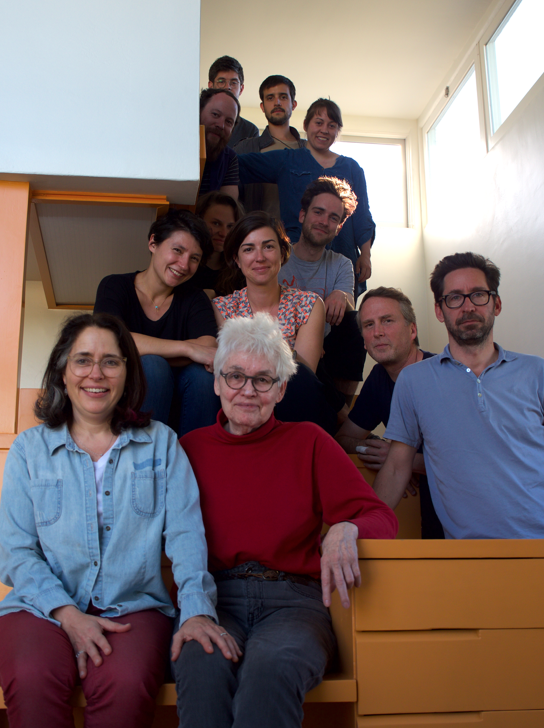 Lila Athanasiadou (architect & scholar) / Project 1 / Project 2 / Project 3
Jasmin Blasco (artist) - website / Project 1 / Project 2 / Project 3 / Project 4
Daniel Frota (artist) - website / Project 1 / Project 2 / Project 3
Slow Reading Club: Bryana Fritz / Henry Anderson (choreographer / artist) / Project 1 / Project 2 / Project 3 / Project 4 / Project 5
FELLOWS 2017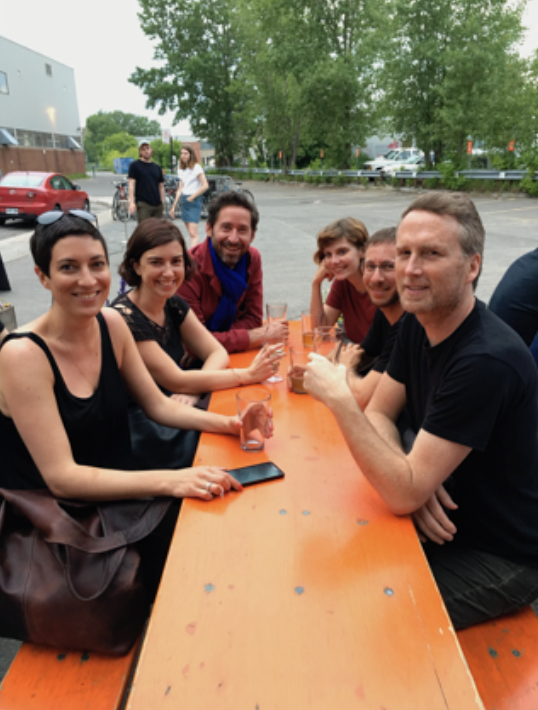 Tyler Coburn (artist) - website / Project 1 / Project 2
Lou-Maria Le Brusq (artist) - website / Project 1 / Project 2
Joshua Schwebel (artist) - website / Project 1 / Project 2 / Project 3
Daniela Silvestrin (curator) - website / Project 1 / Project 2 / Project 3
EXPERIENCE FEEDBACK
Tyler Coburn
"I was originally drawn to Art by Translation for its critical assessment of the idea of "transparent communication." Such communication, as noted in the application call, is an enduring fantasy, which purports to sidestep the messy realities of translation—and the attendant sociocultural baggage. On the opposite end of the spectrum is an "aesthetic and ethical stance […] based on the acknowledgment of inadequacy and discordance in the process of translation."
From its seminars and workshops to its exhibitions, Art by Translation models this latter stance in an extremely thoughtful and responsible manner. The organizers do an excellent job of inviting guests who not only speak from different professional positions in the arts (artists, curators, scholars, students) but who bring the concerns of different disciplines—science, architecture, linguistics, etc.—to bear on the subject of translation.
I went into the program with an interest in researching the "psychic spying" units run by the KGB and CIA between the 1970s and the mid-1990s, which tasked people of supposedly exceptional psionic abilities to mentally travel to covert enemy sites and describe their contents: nuclear missiles, new models of submarines, and so on. I found that seminar guests and the Art by Translation organizers were great resources, suggesting lines of inquiry into other historical attempts to harness and even scientize psychic practices. This research, nascent during my involvement in Art by Translation, has since developed into a body of work that I have shown with such institutions as Tensta Konsthall, Stockholm; Kuenstlerhaus Stuttgart; and Triangle Arts Association, New York. The project, Remote Viewer, owes a large debt to Art by Translation.
As a participant in Art by Translation, I was involved in two of the ongoing House of Dust exhibitions: one at The Darling Foundry, Montreal, and the other at CNEAI, Paris. Drawing on the content of the seminars, I created a multi-part work—partly in collaboration with the artist Byron Peters—that explored the phenomenon of resonant frequency. Supposedly, most things in the world have one or more resonant frequencies; if exposed to these frequencies, they'll vibrate in sympathy, at greater and greater amplitude, to curative or destructive effect. Our project, which includes a public .zip file, diagrams, print takeaways, and a performance for one person at a time, imagines that resonance may serve as both a vibrational and conceptual tool to help shift our relationship to contemporary finance, logistics, and love. As with all of the projects in these exhibitions, it draws upon a quatrain from Alison Knowles's seminal poem: "A house of roots / In a metropolis / Using all available light / Inhabited by lovers."
Lou Maria Le Brusq
"I discovered the existence of the research and exhibition program Art by Translation during my last year at the École Nationale Supérieure d'Arts de Paris-Cergy, just before presenting my diploma project. The questions that Maud Jacquin and Sébastien Pluot were asking corresponded very closely to preoccupations visible in my own work: questions of translation in the arts, issues dealing with language, the status of an artist-researcher, links between architecture and cybernetics, etc. The participants were invited to reflect upon these questions in relation to Alison Knowles's work The House of Dust.
During a series of seminars organized from March to June 2017 we had the occasion to meet numerous artists and researchers who shared their knowledge and experiences, and opened up new avenues which I hadn't yet realized were connected with my work. In parallel to my artworks, I also am part of an artist collective, SILO, which proposes a publishing platform, a record label and a residency program. The three poles which constitute the collective are based on a desire to work together with others within a context of multidisciplinary possibilities and common shared spaces, with a structure for accompanying the elaboration of diversity of objects and forms. One of Art by Translation's lines of research was the question of hospitality, a notion at the heart of Alison Knowles's project. Before that, I had never before considered my editorial work as a form of hospitality. But thanks to the seminars I understood how the notion of invitation and hospitality underscored my artistic and editorial work. A joyous revelation that I continue to expand upon.
In addition to the seminars, two exhibitions were organized in the framework of Art by Translation. The first took place at the Darling Foundry in Montreal in June 2017 and the second at the Cneai in Paris in September of the same year. Moreover, I learned a lot from these two exhibitions of my work which allowed me to be in a very professional context soon after having finished my diploma. What I remember most are Maud and Sébastien's generosity in their invitation. Each of the program's participants actively participated in every stage in the conception of the two exhibitions, collectively defining their content and principles. This was done in a non-hierarchical manner based on mutual trust were everyone could be heard. This group implication allowed us to become quite close, to move forward rapidly and make quick and efficient decisions. As for me, this allowed the exhibition making process to become much more explicit, to understand the workings of art institutions, and to develop a critical stance. I also have gained in confidence, because despite being the youngest and least experienced of the group, my ideas were considered with the same respect as the others.
In conclusion, I thank Maud Jacquin and Sébastien Pluot for this highly enriching experience, on both an intellectual and human level. We were fortunate to establish a genuinely positive work relationship that continues today. The real force of Art by Translation is its ability to create a synergy amongst all the participants and put all its theoretical aspects into practice in both an experimental and concrete way."
Joshua Schwebel
"The Art by Translation program provided several exhibition and educational opportunities. Beginning with the seminars which drew together a wide range of interconnected subjects from Fluxus to telepathy, from translation to hospitality, from architecture to concrete poetry, each of the presentations connected to the central research topic of Alison Knowles' groundbreaking work, The House of Dust.
Following the initial seminars, we worked together as a group with invited artists to plan the forthcoming exhibition in Montreal at the Fonderie Darling. While I did not create an artwork for this exhibition, I worked together with Maud Jacquin and Sébastien Pluot to edit the exhibition texts and install the exhibition. Subsequently, I prepared three separate works for the two exhibitions in Paris. In the exhibition at the CNEAI I prepared a work in response to the utopian premise underlying the Fluxus use of audience participation and activation. While in the 1960s the idea of active audience participation held the promise that this active engagement might transfer from the context of the artwork into the 'real', I observed that in today's neoliberal context the dynamics around active participation have shifted. Implementing my project in response to other artworks within the House of Dust exhibition that relied on audience participation, I hired a number of people to 'activate' these other works. By shifting the register of activation from voluntary to compensated, the critical position that activation is a form of unpaid labour emerged.
In the context of the exhibition, A House of Stone, at La Galerie, Noisy-le-Sec, I prepared two interrelated works. The first was in response to the premise of this exhibition on the concept of hospitality, and the philosophical test to the limits of hospitality between a host and the foreigner as guest. I proposed a work to the curators that I would perform my work in their respective apartments, without their foreknowledge of what I would enact, and, for the duration of the performance, unwitnessed and unsupervised. I also extended invitations to other artists, to ask them to determine the actions I would perform within this context. In this way the curators were hosts to unknown art actions, and I was not only a parasitic guest in their flats, but a parasitic artist laying claim to the works of other artists. In the flat of Sébastien Pluot I performed a work determined by Michelle Lacombe wherein I tried on Pluot's clothes, composing various 'outfits' and documenting my efforts. In the apartment of Maud Jacquin I prepared a blood sausage "boudin noire" according to the recipe of artist Jérome Havre's Caribbean father.
The second project I presented within the theme of hospitality took into account the specific architecture of the gallery, which had formerly been a bourgeois manor. A particular element, the fireplace, had, upon the building's transformation into a municipal gallery, been removed and placed in the office's of the mayor's mother, herself a powerful politician. This bizarre office furniture, so unbureaucratic, yet so significant of domestic power, became the key to a short story that I wrote about a fictional exchange with the mayor's mother.
Each of these projects emerged from the various trajectories laid out in the opening seminars of the Art by Translation program. They would not have occurred to me without the material we had covered, nor would I have realized them without the generous mentorship, guidance, support and encouragement of Maud Jacquin and Sébastien Pluot, along with the atmosphere of exchange and trust amongst myself and fellow participants. The year as a whole was intensely stimulating and motivating. It is rare to find colleagues as engaged as myself in the relatively unpopular practice of conceptual art and institutional critique, and the connections I made by way of the Art by Translation program have been transformative, and, I hope, will be long-lasting."
Daniela Silvestrin
"Taking part in the first year of the Art by Translation program was a great and very enriching experience for me. Usually, for curators there are much less opportunities to apply for residency or other post-graduate programs than for artists — and in the case of Art by Translation, I really enjoyed and appreciated the fact that it offered the participation to both artists and curators equally in the application process.
Among the four participants selected, I was the only one with a curatorial background, together with 3 artists with different artistic approaches and practices. The four of us were asked and invited to contribute projects to exhibitions that were supposed to take place the same year and that had already been planned and curated to different degrees. Maud, Sebastien and Jeff gave us both as much input and information as possible to join the processes and developments of these exhibitions, while leaving us a lot of space and freedom to bring in our individual approaches and practices, without insisting or forcing us to do so every time.
Initially I was not sure how to contibute with my role as a curator to exhibitions that already were planned and conceptually structured. It was a challenge for me to find my place in the group, where I felt that the task and invitation to the artists to contribute projects and works to the planned exhibition was much more clear in its expectations and possibilities. But the exchange and the periods of time we could spend together, discuss and talk about the Art by Translation program and the single exhibitions, the more I enjoyed the hybridity of my role and to tackle the challenge of coming in and working as a curator into an already curated space, finding and creating my own space within it without remaining just a satellite or stranger to the general concept.
It was a very fruitful, interesting and instructive experience for me to be able to learn from experienced curators like Maud and Sebastien and to work with them on various levels (curatorial, organizational, and artistic) of the single projects as well as of the exhibitions in general. Additionally, the possibility to do this in close exchange with and through the continuous change of perspective that was brought in by the artists (Jeff as well as the other 3 participants) provided a really unique way and environment of learning and working together across our different backgrounds.
I am very thankful and happy that I was selected to take part in this program; it created an important and strong moment of reflection, confrontation and growth for me personally and professionally.
It was a beautiful experience that tought me a lot, gave me inspiration for future projects, and connected me with great artists and people in Paris that I continued to work and exchange with after the end of the project".